A high capacity, low discharge rechargeable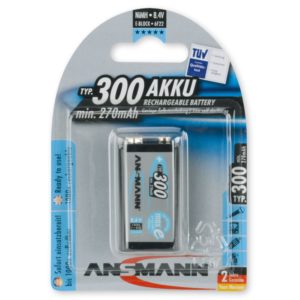 9V High Capacity, Low Discharge
Power-packed 9V for power hungry applications - plus the advantage of low self discharge makes this new Ansmann 9V the best NiMH Battery available anywhere.
Great for wireless mics, IEM's, effects pedals, listening assist, pagers, remotes and more
Use this battery anywhere you would use a 9V alkaline battery
High recycles - up to 300 full capacity recharges, depending on application
Long run-times - and additional 20% power boost.
Charges up to 9.6V + and has flat discharge curve
Pro-grade - not your typical consumer battery. Strong enough for professional applications.
Low 2% per month self-discharge makes this cell ideal for effects pedals, pre-amps, and other devices where the battery is left for long periods of dormancy.
Ansmann 9V 300 mah 1 pk blister. Part # 5035453
Download Our Pro-Audio Catalog
Just enter your email in the form below to instantly download our complete pro-audio catalog.

We value your privacy and would never spam you
Recent Posts From
Our Blog